TOM BRUNER - BIOGRAPHY
Tom Bruner has been in the music business for the better part of his life. He was born in Memphis, Tennessee but grew up in Texas. Since the early 1960's, when he was a sophomore in high school, he's been totally involved in music. He joined the Musician's Union at the age of 16 and began playing with
Rhythm & Blues, Rock& Roll
, and
Commercial
bands in the San Antonio, Texas area. After high school, he enrolled at the
University of North Texas
in Denton, Texas, majoring in music (jazz studies and composition) and played 4 years in the
North Texas Jazz Lab Band Program
, performing with the prestigious
"One O'clock Lab Band"
in his junior and senior year. During this time period, the
One
O'clock Lab Band
played a concert with Stan Kenton's
Neophonic Orchestra
in Los Angeles, as well as a television show on ABC television featuring the Lab Band, with Kenton as host.
After graduating from North Texas with a Bachelor of Music Degree, Tom spent 4 years in the Air Force, assigned to the band at the United States Air Force Academy in Colorado Springs, Colorado. He was given the very first "guitarist slot" with the Academy Band, playing with the jazz big band, The Falconaires, and on "pops" arrangements with the Concert Band. Being a member of the Air Force Academy Band also afforded him the chance to use arranging and composing skills he learned at North Texas by becoming a member of the AFA band's arranging staff. He contributed many arrangements and orchestrations during the four years of his enlistment, not only to the jazz band, but also to the Concert Band as well as various styles of musical small groups. While living in Colorado Springs, he had to good fortune to study and become friends with legendary jazz guitarist, Johnny Smith.

Upon leaving the Air Force in the early 1970s, Tom moved his family to Los Angeles for him to be able to pursue a career as a studio musician. His first major job was playing "production shows" in the house band at the Ambassador Hotel's Coconut Grove nightclub, which also contained the seasoned musicians Marshall Royal, Cat Anderson, Herman Riley and Brit Woodman. It was during this general timeframe that Tom authored and published his first book, THE ARRANGER/COMPOSER'S COMPLETE GUIDE TO THE GUITAR. Having been befriended and recommended by such great guitarists as Herb Ellis, Mundell Lowe, Tommy Tedesco, Joe Pass, Bobby Gibbons, Billy Fender, Al Hendrickson, and others (in the small circle of Hollywood studio guitar players), he began doing recording work, playing on many television shows, jingles, movies and records. Some of the many TV shows Tom played on are listed were:
• Hawaii Five-O
• The Merv Griffin Show
• Police Story
• Police Woman
• Shaft
• Matt Helm
• The Wonderful World of Disney
• Medical Center
• The Mary Tyler Moore Show
• The Bob Newhart Show
• Movin' On
• Gunsmoke
• Barnaby Jones
• The Streets Of San Francisco
• The FBI
• Dirty Sally
• The Dukes Of Hazzard
• Laverne & Shirley
• Happy Days
• The Rich Little Show
• The Hardy Boys
• Cannon
• 1984 Olympics Opening Ceremonies
(w/John Williams' Orchestra)

Also during this same period of time, Tom was the guitarist playing in pit orchestras for 8-week runs of "Broadway musicals" (many produced by the Los Angeles Civic Light Opera), including:
Jacques Brel Is Alive And Well And Living In Paris (Century Plaza Hotel. Los Angeles)
Jesus Christ Superstar (Universal Amphitheater, Los Angeles)
Pearly (staring Robert Guillaume - Aquarius Theater, Los Angeles)
The Bernstein Mass (under the direction of Leonard Bernstein, Mark Taper Forum, Los Angeles)
How To Succeed In Business (staring Robert Morse, Dorothy Chandler Pavilion, Los Angeles)
Camelot (staring Robert Goulet & Carol Lawrence, Dorothy Chandler Pavilion, Los Angeles)
Anne Get Your Gun (staring Debbie Reynolds, Dorothy Chandler Pavilion, Los Angeles)
The Act (staring Liza Minnelli, Dorothy Chandler Pavilion, Los Angeles)
Chicago (staring Gwyn Verden w/Bob Fosse directing, Dorothy Chandler Pavilion, Los Angeles)
Pippin (Los Angeles Civic Light Opera)
They're Playing Our Song (staring Robert Klein & Lucy Arnez, Los Angeles Civic Light Opera)
In the late 1970s, Tom played several times with the Los Angeles Philharmonic Orchestra at the Hollywood Bowl - when an "Evening At Pops" concert required a guitarist to be supplemented to the orchestra. A few years later, in the early 1980s, he played with Jack Elliott's New American Orchestra at the Dorothy Chandler Pavilion at the Los Angeles music center in a concert featuring Gerry Mulligan.
By mid 1975, Tom had decided to pursue a career in composing, arranging, conducting and producing music for television and film (in addition to continuing to make a living as a guitarist) and formed Tom Bruner Productions (later becoming Tom Bruner & Associates, Inc). He started this segment of his career by initially writing, arranging and producing jingles for radio and television (over 100 total) and in 1977 was nominated for a Clio Award for a radio music spot he composed and arranged using Sarah Vaughan as vocalist. Also in 1976, he became musical director for his first television show, THE ACADEMY OF COUNTRY MUSIC AWARDS. The association he formed with that show was to last 18 years, resulting in his arranging and conducting music for dozens of country music stars – from the years 1976 through 1993.

During the 70s, 80s and 90s he continued writing jingles, arranging and conducting for recording artists and was musical director on over 60 national television shows – including 13 years at the helm of the orchestra of the Golden Globe Awards (from 1980 through 1993). He composed hundreds of music cues, arrangements, orchestrations and themes for television, theatrical & television films, animated cartoons (such as Hanna Barbera's Smurfs, Ms Packman and Foofer), and several television station "music packages"(KCOP Channel 13, Los Angeles). In 1981, Tom co-produced as well as wrote the music for a syndicated 13-episode children's television show entitled IMAGINE THAT.
Here is a summary of Tom's credits as a Television Show Musical Director:
The Golden Globe Awards (for 13 years)
The Academy of Country Music Awards (for 18 years)
The Olympic Flag Jam (a 3 hour super-show produced by Dick Clark at the Atlanta Dome in 1992, celebrating the hosting of the 1994 Olympics)
The 1st, 2nd, 3rd & 4th Black Gold Awards (w/Lou Rawls)
The Great American Sing Along (w/Steve Allen)
The Lou Rawls Parade of Stars (for 3 years)
Ray Charles' 40th Anniversary Salute
I Love Men (w/Donna Mills, Leslie Uggams & Gloria Loring)
The 1st & 2nd US Magazine Awards
TV Round The World (HBO)
26 Episodes of series programming for the Playboy Channel
Sea World Special All Star Lone Star Celebration (w/Marie Osmond, & Natalie Cole)
The NBA Awards
Slapstick Studio – an series of 13 children's shows w/Dick Shawn
Thanks For Caring (telethon for C.A.R.E. w/William Shatner & Morgan Fairchild)
Celebrity Fun Cruise (w/Englebert Humberdinck & Andy Gibb)
Imagine That, 13 episodes of Children's Programming
Tom has written seven books on music. At least two of these books - Beginning Orchestration & Arranging and The Arranger/Composer's Complete Guide To The Guitar are still in use in many colleges and universities. The other five books were designed for intermediate and advanced guitar study (published by Mel Bay Publishing).
Tom taught entertainment and music industry related courses in the California Community College system for three years (Antelope Valley College – 1988, 1989 & 1990). In the early 1980s he was hired by jazz guitarist Howard Roberts to teach biannual 6-week courses covering jingles, film and studio playing at Guitar Institute (Musician's Institute) in Los Angeles. He was also engaged by Dick Grove (in the late 70s) to do regular seminars on studio work at The Dick Grove School of Music.
In late 1985, Tom began actualizing his love of writing fiction, eventually authoring 6 screenplays and 2 unpublished novels - all while continuing assignments as an arranger/conductor.
In the fall of 1990, Tom moved his wife and 6 children to Nashville, Tennessee as a diversion to the hectic lifestyle of Los Angeles. Even though he still had to commute many times a year to California for film, record and television projects, his focus in Nashville was on his family and on working in his own recording studio. His arranging work in "Music City" grew as well, writing and conducting music for the record dates of prominent Nashville recording artists. He was nominated for a Grammy Award in 1998 for arrangements he did (for a 46-piece orchestra) on recording sessions for the CD Secret Love - for BMG artist Lorrie Morgan.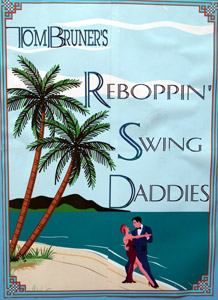 In mid-1998, Tom was offered the job of musical director for the Glasgow Dinner Theater in the tourist town of Pigeon Forge, Tennessee. He decided to take the position and assembled an 8-piece show band he called The Reboppin' Swing Daddies for a two year run. Not only did he have to select and arrange all the music for ever-changing shows, he was in charge of hiring musicians, singers, dancers and production support people - such as sound and lighting technicians as well as overseeing the budgeting and payroll of these employees.
In 2000, when the theater closed, he then moved his family back to Los Angeles, where he was to score 4 theatrical films for award-winning movie producer, Bob Larson. At the last minute, legal complexities and entanglements in the film production company prevented these films from going forward. Luckily, Tom found another film to score entitled Don't Let Go.
His digital recording studio was then located in Burbank, California, where he did production until 2002, when he decided he would like to "semi-retire", slow down just a little from the day-to-day grind of the music business and take a position as adjunct professor of music at the College of Southern Nevada. And by now, experiencing the newfound "empty nest" syndrome in his family, he and his wife Delores decided it would be a "good thing" to make the move to Las Vegas.
Having been heavily involved in the many facets of making a living in the music industry for at least 35 years (since graduating from the University of North Texas in 1967), Tom never had time to take the opportunity to pursue an advanced university degree. Consequently, in the fall of 2006 he enrolled at the University of Nevada Las Vegas in the Jazz Studies Master's Degree Program and graduated Magma Cum Laude in December of 2007. He presently teaches Film Scoring classes at UNLV, as well as Music Theory, Film Music and Music Appreciation classes at the College of Southern Nevada. He plays jazz guitar at various engagements in Las Vegas, and continues to maintain his recording studio and music production activities.
Tom has composed, arranged, orchestrated, recorded and conducted music for both large and small orchestras in Los Angeles, Washington D.C., London, England and Nashville, Tennessee. He has been a member of the American Society of Composers, Authors and Publishers since 1973, is listed in editions of Who's Who In Entertainment, Who's Who In America and Who's Who In The World and is a member of The National Scholars Honor Society and Phi Kapa Phi Scholastic Honor Society.